Kenneth Nielsen
My name is Kenneth, I'm 24 years old and study Art History.
I have been living in Århus for three years now. Before that I lived in the small town of Aars, which has around 8.000 inhabitants but possesses a great deal of the Danish artist Per Kirkeby's art and architecture.
I have got my basis for this course through my study at art history where we at our second semester worked with city planning- and structure and how people experience city life through all their senses with for instance Kevin Lynch, Rem Koolhaas and Christian Norberg-Schulz as main sources.
At my third semester I have been occupied with the city of Rome in the Renaissance, Mannerism and Baroque periods; how the religious (and rather profane) reign of the Popes shaped the city and its art, architecture and structure.
My main interests are architecture (historical as well as modern and post modern), city planning, art's influence on social conventions, religious subjects and last but not least I find abject art rather compelling.
In my spare time I enjoy a lot of music, playing the drums in an (hopefully) upcoming rock band and do jobs as a DJ now and then. I also like watching movies with Kubrick, von Trier, The Cohen brothers and David Lynch as some of my favourite directors. Fashion, photography, cooking and running also occupy a big space in my heart.
I never read fiction, but I'm in love with Google Maps' Streetview.
(Usually I look a bit happier than in this passport picture)
---
Subjective map of Århus: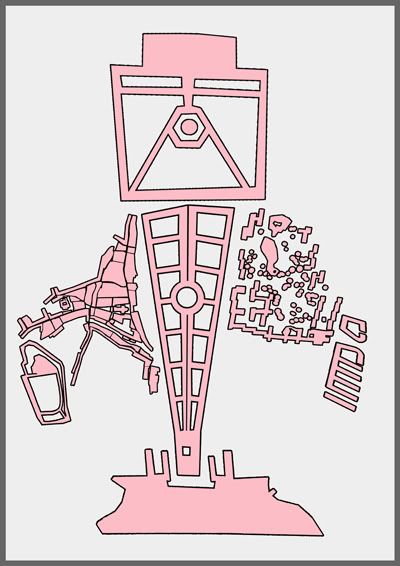 ---
Hybrid Space:
I have chosen to take a look at a computer guide at IKEA Skejby as my hybrid space. LINK for full description and video documentation.
---
Audio Stand:
My sound clip is found on First Class. I made a mix of different places in Århus that are defined through their different kinds of silences.
---
.walk:
As a part of the course I did both a .walk that was programmed by myself and one that was made by an opponent group. My own .walk was based on watching for places I could by stuff. The other group's .walk was based on watching for bike racks and children.
---
Misguide:
My misguide to Århus is based on public transport and the random rules of coincidence.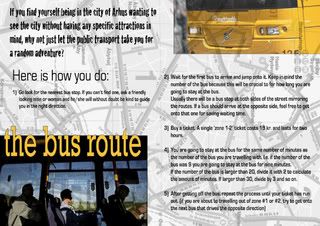 ---
Thoughts on the course:
1. what is your most memorable experience from this course? It could be with regards to readings, artworks or your assignments.
My most memorable experience would be making the sound assignment. I spend two days on recording my different sound bites that was going to be put together in my 'silence of the city mix'. The end result was very boring for others to listen to, but to me it was fabulous to get around in the city to visit the different places I had planned to record. I enjoyed seeing the reactions of the people when asking if it was okay to record their places. I especially enjoyed experiencing my own reactions to recording at the church and at the swim bath. It was kind of provoking to enter people's intimacy- and religious spheres. Overall the end result was rather bad but the process was great fun!
2. name the text that you liked the most (or that you learned most from) (or that provoked you the most). Why?
The texts concerning Guy Debord and the Situationists were some of the best for me. I'm not really into new technologies and I enjoyed reading about approaches where the human senses combined with drawn maps and streets were used as mediums without all the GPS and electronic equipment.
When reading about the Situationists I drew on my previous knowledge about the avantgarde movements in the early years of the twentieth century and this was one of the few times (together with Rem Koolhass, Michel de Certeau, Henri Lefebvre and mapping topics) I saw a clear connection to my studies at art history.
3. name one thing that you have learned from the readings (or, which text did you like the most? Why?)
I learned a lot from the readings about sound. I didn't know much about the more theoretically topics concerning sound as layers onto reality. The texts for the lectures on 'listening to the city' and 'portable sounds and voices' were the most eye opening topics for me. I'm going to use some of the topics for my exam project in a course called 'Culture, Institutions and Communication' where I am going to use soundwalks as a tool of communicating at art museums. The goal is to make the collection of the Danish golden age paintings more interesting by offering age- and culture-capital-differentiated soundwalks for the visitors.
4. which artwork/artefact/performance presented in class did you like the most (or provoked you the most). Why?
One of the artworks I remember the best is the soundscape by Else Marie Pade. I knew her by name and that she was one of the world's first electronical musicians but I had never heard any of her works before. It was really great to hear her Copenhagen day in full length. I guess I was drawn by the low-technologicallity of her work.
//5. what was your reply to the assignments?
Take a look above :)
6. which assignment do you find most in line with the course content? Why?
The last assignment was the one that was most in line with the course. It was really open and you could do as you wanted. This openness has been the spirit of the course with all the merits and flaws connected to this. The strength has been that we have experienced a lot of different approaches but sometimes I missed a more concentrated course that appealed to me as art historian. I guess it is impossible to incorporate all the aesthetics in one course and besides comes the fact that all the foreign students don't even come from aesthetic studies.
Well, the last assignment was great because we had the ability to choose among a lot of different approaches on how to communicate the city.
page revision: 15, last edited: 05 May 2010 10:45