The Money Route
In case of a T-cross, Y-cross or a roundabout, keep to the right side.
Repeat the program for one hour.
Turn right at the second possible street.
Turn right at the first possible street after walking by a place where you can buy something.
Turn left at the first possible street after seeing a pedestrian.
---
Group 4b's .walk
Red dots: Shops
Green dots: Pedestrians
By coincidence the interplay between instructions, streets, shops and pedestrians made us walk in an evil circle that wouldn't break.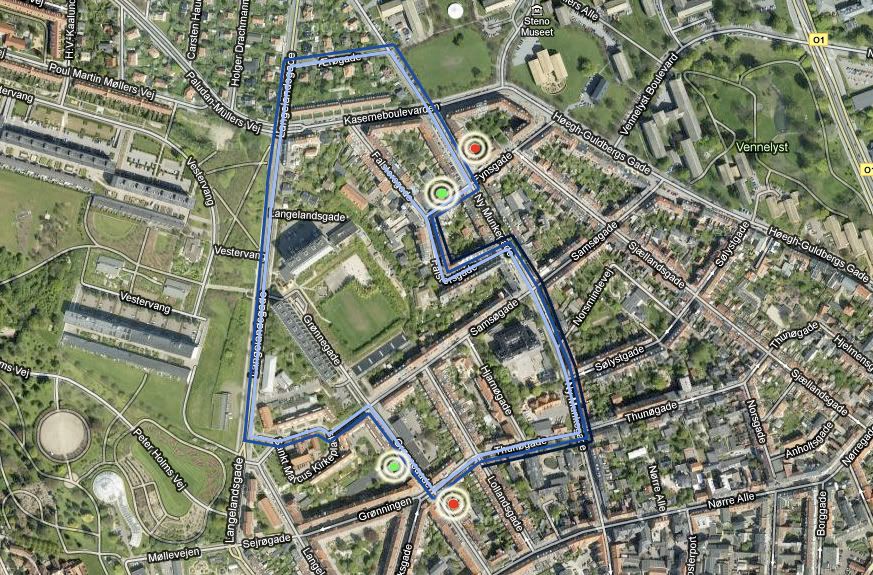 ---
.walk performed by 4a group.on sunday, 18:40
first instuction: red
second instruction: black
third instruction: blue
S: shop
P: pedestrian
D: start
E: end

We started from Mollevangs kirken, near Tandlaegekollegiet. Because we were looking for a area were there is nothing special, it's a living area.
We choose to take in pictures the different place "where you can get something to buy" because we realize that the location of this place who decide for us where to go. As in every case a pedestrian was around the shop so we directly had to realize the next directive. The entire walk was then turn into "let's find a place where we can buy something".
GROUP 7b's walk
Group 7b also made the Money Route, 8 AM this morning, in Århus Nord. We had to make some decisions to what roads to pick, and we came to notice some shops we have never seen before. All in all the rules where easy to follow, and you came to notice small shops you woulden't have seen otherwise, and pedestrians as well :)

page revision: 26, last edited: 13 Apr 2010 08:59